The New Husqvarna QW26S817 at a glance
Capacity: 8kg
1600 RPM
Save time, water, and energy with AutoAdjust
A steam function that removes bacteria and allergens
FlexTime can speed up the washing program
Possibility of timed start
I recently got this machine myself and have had the opportunity to try it out with my own hands. It's very easy to use and especially the display is a big plus since it has large fonts and easy-to-read menu items, which makes it suitable for older people… and Men, Teenagers, etc.
AUTOADJUST
The AutoAdjust function saves water and energy, especially when washing only a few clothes. Sensors in the laundry compartment automatically adjust the length of the program and the amount of water used. Good for your wallet and the environment.
SNABBPROGRAM
The quick programs are designed for days when you need to wash but really want or need to do something else. The 60-minute program is a complete quick wash, while the 20-minute program is perfect for smaller loads.
CLEANBOOST
The 60-degree CleanBoost wash program finishes the program with steam – for efficient and hygienic cleaning. The steam removes bacteria and allergens, contributing to better laundry hygiene.
FLEXITIME
The FlexiTime button allows you to speed up the washing program to suit your schedule. Press once to activate and again to speed up the program. You can use the function four times per wash – and save time with every press of the button.
EASYIRON
The EasyIron program washes your clothes extra gently, reducing creases and wrinkles. During the program, the drum changes direction so that the laundry moves more freely. This means less ironing time for you or none at all.
What is the opinion about Husqvarna washing machines in general?
According to Canstar Blue, some of the pros of Husqvarna washing machines include their energy efficiency, large capacity, and range of features such as delayed start and child lock. Some of the cons mentioned include their higher price point and longer cycle times.
BestAdvisor highlights the durability and reliability of Husqvarna washing machines as a major advantage. They also mention the brand's focus on energy efficiency as a positive aspect. However, they note that the machines can be more expensive than some competitors and may not have as many advanced features.
Which? notes that Husqvarna washing machines generally perform well in their tests, with good cleaning and spinning performance. They also mention the brand's focus on sustainability and energy efficiency. However, they point out that some models can be quite noisy and may not be as easy to use as other machines.
Overall, it seems that Husqvarna washing machines are generally considered to be reliable and energy-efficient, but may be more expensive than some other brands and may not have as many advanced features.
Husqvarna QW26S817 is easy to use
The temp adjustment is logical and easy to find and navigate. It operates separately from the program selection which makes it possible to use each program at the temp you want rather than having predetermined temperatures for each program you turn the knob on. You have all the functions you need without unnecessary bling-bling that just confuses the hell out of everyone. A washing machine is one of those machines you just want to push and forget about.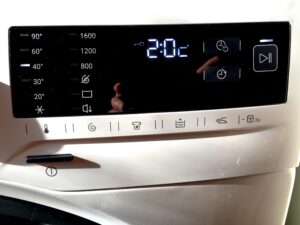 Summary of Husqvarna QW26S817 review
If I were to summarize this machine in three words it would be "Simple and Clear". It's easy to operate and you don't need to read through hundreds of pages of the manual and figure out the correct settings and all of that, it just works that's the beauty of it. It has a fast 1h program that does the job and the standard "Cotton" program with the temp of your choice that runs for 3h. The rotating knob sets the programs separately from temperature, allowing you to choose any temperature for each program, although some have a locked range e.g. 40-60 for ECO. It is relatively quiet but like all washing machines, it can make some noise during the spin cycle depending on the quantity of clothes and how they are located or stuck in the drum.
Top 10 questions about washing machines